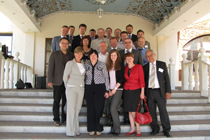 On June 20-21 Company "TechnoExpertService" arranged and held Workshop "Projects Management Efficiency Improvement in Construction of Oil Refining Facilities". Industry-specific workshop took place in Hotel "Tzargrad", near Moscow.
The Customer initiating the workshop was the Downstream Department Top Management of OAO "Gazprom neft". Heads and specialists of capital construction departments and engineering offices of "Gazpro neft", Omsk, Moscow and Yaroslavl refineries participated in the workshop.
Within two days the speakers' and participants' reports were attended and discussed, including practical recommendations on efficient management of investment projects in plants of oil refining branch. The participants could become familiar with the best foreign and home practice in projects implementation, share the benefit of their own experience. Problems of project cost assessment, construction & assembly works value formation, as well as cost control mechanism during project life cycle became as the central subject of the workshop.
The workshop attendees were unanimous in their opinion that this type of communication and discussion of important issues is timely and essential, and also contributes to better relationship among the personnel of oil refining subdivisions in a company.